Hukilau Sunday Night Dessert
Christopher's Hukilau Pictures
Torchy Taboo at the Starlight.
Early at the Drive-In. The parking lot was packed at show time
Some Drive-In Invaders were definitely into it.
A '56 and it's owners
Amity Beach Patrol Vehicle from JAWS
Kiliki and Swanky with Mai Tikis
Tiki Jell-o mold
Wayne gettin' crazy - STAND BACK
Wayne Coombs and King Kukulele
Ford and Lisa Vox
Forest Ward and friends and his Caddie
The Muggler, his wahine and the Balir Witch folks
Vern's Hukilau Pictures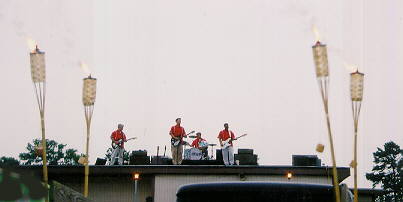 KreepyTiki's Hukilau Pictures
The KreepTiki artists with Sven and their mascot.
The tiki they gave away at the raffle.
The lovely wahines of KreepTiki and Sven
The dark Marquesan style Tiki on Jack's right came home with us and now lives in Shangri-la!
Penetrator's Hukilau Pictures